AIR FREIGHT SHIPPING FROM CHINA – AIR CARGO INTERNATIONAL BEST RATES
BEST AIR-FREIGHT FORWARDER IN CHINA - FREE QUOTE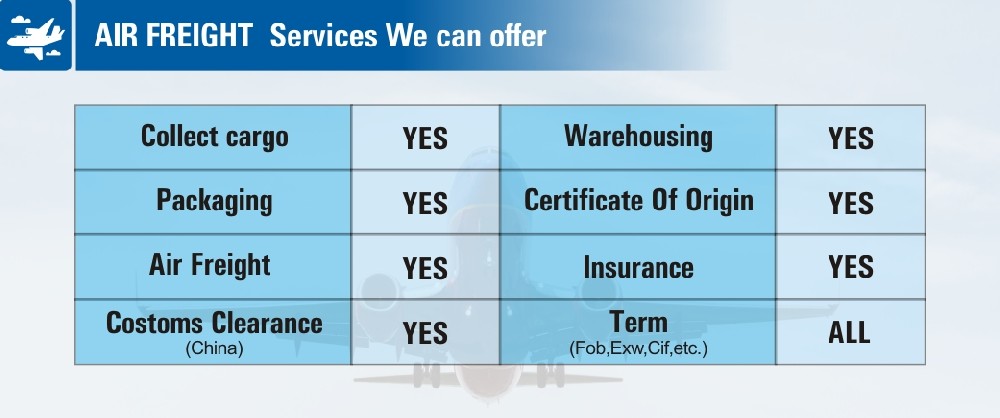 HIF Shipping
HIF Shipping is proud to offer you its experience in shipping between China to the world or vice versa for your needs in Air Freight.
Contents
hide
1 
Air freight from China
1.1 How to understand a quotation and calculate the price?
1.2 How to Calculate Chargeable Weight for Air Freight Shipments ?
2 Air Cargo in China – The complete guide
2.1 The express solution
2.2 An important cost
2.3 A permanent tracking system
2.4 Should I use Air freight ?
2.5 Process
3 Recurrent questions – Air freight from/to China
3.1 Should I book the delivery by myself, or will my supplier do it?
3.2 Can I obtain an insurance for my Air freight?
3.3 Are there particular restrictions that I should know?
4 How the Chinese Air freight market is evolving? An original point of view from our CEO.
4.1 ACCORDING TO YOU, WHAT CAUSED THE AIR FREIGHT PRICES INFLATION?
4.2 WHY IS THE LACK OF SPACE STILL PERSISTING?
4.3 HOW AMAZON INFLUENCED THE MARKET?
4.4 WHAT ARE THE ALTERNATIVES TO THE AIR FREIGHT?
4.5 HOW HIF SHIPPING REACTED TO THE 2017 PEAK SEASON?
4.6 WHAT ARE THE OBJECTIVES OF HIF SHIPPING AIR CARGO DEPARTMENT?
5 Temporary importations and ATA Carnet : Yes We can !
5.1 All to know on the ATA Carnet
5.2 Uplifting Agility: Airfreight Strategies for the Holiday Season and Beyond
5.3 Current Snapshot: Tariffs and End-of-Year Impact
6 How to Plan for Holiday Season and Account for Airfreight from China
6.1 Finding Agility in Uncertainty
6.2 Looking Ahead to 2020
6.3 Conclusion
6.4 QUESTIONS ABOUT AIR FREIGHT FROM CHINA
6.5 How is charged the Airfreight from China?
6.6 Do I have to book the shipment myself or can my supplier take care of it?
6.7 ✈️Can I get air cargo insurance?
6.8 ⚠️Are there any restrictions I should know about?
6.9 What is the role of a Chinese air freight forwarder?
6.10 What are the advantages of air freight?
6.11 What Chinese's products are shipped by air?
6.12 Related Posts:
AIR FREIGHT FROM CHINA
HIF Shipping
offers air freight services from China to any other countries, or vice versa. For Air freight to Europe, for example, the air cargo transmission delay is up to 7 days, which is faster than the usual 35/40 days by sea freight.
HIF Shipping's
network of well-tested professional partners allows us to manage your shipment minutely and in the best delays.
The Air freight is feasible for all kind of products, from the most fragile to the heaviest.
The Air regulations are very strict, that's why we put all our attention to examine perfectly your requests. After this precise analyse of your demand, our teams will insure you a freight service matching absolutely with your expectation, your needs and the nature of your goods.
HIF Remark
: For a free quote, contact our
HIF Shipping
experts, they will send you a quote within 48h (if we have all information needed).
HIF Shipping – A physical presence in major airports in China
HOW TO UNDERSTAND A QUOTATION AND CALCULATE THE PRICE?
The air freight price can be calculated by using two different methods. The first is the following: the cost per kilograms multiplied with the weight of the shipment.
Nonetheless, because an Airbus or a Boeing owns a limited loading space, weight isn't the only parameter to consider. For a low-density cargo (meaning a small weight, with a big volume), you will be invoiced according to the volume rather than the weight.
This is called the "volumetric weight". It's very simple to calculate it:
HIF Remark :
Volumetric weight (average freight) = Volume (CBM) x 167
From the dimensions of your shipment, you can also compute your volumetric weight by yourself
HOW TO CALCULATE CHARGEABLE WEIGHT FOR AIR FREIGHT SHIPMENTS ?
For Air Freight cargo weight, we use the higher of actual weight (measured using a normal weighing scale) or volumetric weight calculated as illustrated below
AIR CARGO IN CHINA – THE COMPLETE GUIDE
Air freight is the fastest solution to transfer goods worldwide. However, note that it's not an adapted solution to all kind of shipment.HIF Info :
Here, you will learn about the Air freight costs, Customs procedure, freight restrictions and insurance options for your import from China.
THE EXPRESS SOLUTION
Air freight is the fastest method of transport. On a long distance, it is undisputedly the first way, compared to the others in term of time. For an Air freight between China and UK for example, it only need a few hours to travel between the two territories.
Nevertheless, it's important to remind the complexity of international transportation, whose freight is only a part of. In fact, there is many other steps that are taking more time than the freight itself, and that you cannot avoid. The paperwork, which includes the custom clearance and the export/import charges, the pickup, the handling and the delivery at the final address are obligatory elements affecting considerably the total delay.
HIF Remark :
Volumetric weight (Express freight) = Volume (CBM) x 200
HIF Tips :
With
HIF Shipping
, our services will provide you a final delivery of your goods between 3 and 6 days, for all your door-to-door requests between China and your country.
For further details on this topic or for an Air freight quote between China and the country of your choice, please contact our
HIF Shipping
specialists. They will provide you an answer within the best delays.
CONTACT US
AN IMPORTANT COST
In general, Air freight is more expensive than Sea freight for all goods with a higher volume than 1,5 CBM and a higher weight than 167 kg (200 kg for express). Despite its higher cost, air freight is far more advantageous in terms of delay. By choosing quicker transport methods, you will rationalise your costs effectively. Also, Air freight is the safest transport method. By opting for this service, you will understate the risk probability (breakage, theft…) during the transport of your products. It will make you feel more serene to know that your goods are undergoing a safe, fast and fluid transport.
Reminder, for example a China- UK transit or vice versa in door-to-door lasts:
3 to 6 days
via Air freight VS
35 to 40 days
via Sea freight
A PERMANENT TRACKING SYSTEM
Process for Air freights are strict and quick. Procedures remains the same which ease the tracking of your shipment. This system of live tracking is a great advantage. You will be up-to-date every time of the evolution of the transport.
"Classic" air freight
: tracked by your HIF expert
"Express" Air freight
: Tracked via tracking code or your HIF expert
SHOULD I USE AIR FREIGHT ?
As mentioned previously, Air freight can be a valuable option for goods with high added value, high density or small volume.
This method is also adapted for all your precious or fragile goods. Strict security conditions limit the risks of theft…
You can also use it when you have time constraints and that your goods should be delivered ASAP.
PROCESS
Shipment procedures for this transport method are quite simple:
1.
Goods pick up at your supplier's address, then trucking
2.
Packing, if needed, and delivery at the nearest international airport
3.
Custom declaration phase
4.
Air freight
5.
Custom clearance (VAT and other taxes)
6.
Delivery to your address
RECURRENT QUESTIONS – AIR FREIGHT FROM/TO CHINA
To get more information please
Email us
, o
r
get a free quote
.
SHOULD I BOOK THE DELIVERY BY MYSELF, OR WILL MY SUPPLIER DO IT?
Your supplier can book the shipment of your goods via his own freight forwarder. However, we advise you to book the Air freight by yourself. You will surely get better rates by doing it on your own. Your supplier will sell you this service a lot more expensive than it really is, if he does it by himself.
HIF Tips:
For enjoying the best rates, do not hesitate to contact
HIF Shipping
!
The team in charge of your shipment will provide you competitive rates for a high-quality service!
CONTACT US
CAN I OBTAIN AN INSURANCE FOR MY AIR FREIGHT?
Yes, insurance for Air freight is although strongly recommended.
HIF Info :
The cost of our insurance service represents
2,85% of the value of the declared goods.
ARE THERE PARTICULAR RESTRICTIONS THAT I SHOULD KNOW?
Yes. The International Air Transport Association (IATA) imposed restrictions on shipments containing lithium batteries, like most of the electronic devices.
To comply, the consignor must condition its goods in agreement with IATA rules, ensure that the goods are correctly marked and labelled, and bring the required documentation.
HIF Info :
For further information on Air freight rules, please visit IATA (International Air Transport Association)'s website.
HOW THE CHINESE AIR FREIGHT MARKET IS EVOLVING? AN ORIGINAL POINT OF VIEW FROM OUR CEO.
Because of the increase of the demand and the lack of capacity, 2017 has been a record year for the Air freight market. The margins generated had never been that high as well as the market prices. This last months are putting up a few questions. Let us show you the analysis of our CEO.
ACCORDING TO YOU, WHAT CAUSED THE AIR FREIGHT PRICES INFLATION?
"Everyone remembers the 2009 space crisis. Since that time, the Air freight market remained calm with a decrease of the demand and the prices. This encouraged the Air freight companies to disinvest and to disengage cargo capacities. In consequence, the cargo capacity from China to Europe decreased and was transferred to the China to USA or Europe to Latin America freights. 2016 has been an astonishing year!
The market evolution hasn't been anticipated, particularly from September 2016 to March 2017. In 2017, the market has been extremely dynamic even during the low season. Prices didn't decrease, and space problems had remained. In that context, freight forwarders distinguished themselves from companies buying in spots. The two models can work together, but this year, groups that had partnerships with airlines had a ride ahead since March. The market trends will probably continue until the end of 2018. Market prices are on such a level that it couldn't have been guessed even a year before!"
WHY IS THE LACK OF SPACE STILL PERSISTING?
"The lack of capacity is caused by the booming of the freight demand, and the disinvestment of companies in cargo capacities. Thereby, for instance, China Airlines modified its combined flights (passengers + cargo) into passengers only flights (PAX), which amended clearly their cargo capacity in departure of Hong Kong, Shanghai and Beijing. Airlines specialised in cargo transports, formerly in economic difficulties, are highly demanded nowadays. All their spaces had been booked on the American market, that overtook 5-6 $/kg.
To face this rocketing demand, they implemented charter flights to offset the lack of space. Another phenomenon strengthened the peak season: The Winter season. Because less people are traveling, there is less flights or smaller flights planned, which reduces the cargo capacity on passenger's flights.
Afterwards, the second parameters to consider is the evolution of the demand. The air freight demand is very high in Europe and in the USA, to face the market needs. Previously, the demand was focused on reducing costs. Nowadays, it is more concentrated on delays, that are shorter and shorter. Some activity sectors like High-Tech technologies are seeking rapid marketing in high quantities of their products.
Samsung, Apple, Huawei… requires charter flights and monopolize most of the capacity during peak season. At the same time, in addition to the traditional goods streams, there are products released punctually on the market, that requires expensive freight to ensure short delays. Let's take the example of the iPhone. It costs more than a thousand dollar and weights 400g per box on average. With a freight cost of 6 $/kg, the impact on the price of the product remains very low.
These products must be in store before Christmas time. Finally, the last parameter that we can analyse is the development of the cross-border e-commerce. Products are directly prepared and packed in China, and then delivered directly to the customer or on Amazon-like platforms."
HOW AMAZON INFLUENCED THE MARKET?
"Amazon literally transformed the market. Usually, stocks were sent by containers in Europe, in the USA, and then dispatched on e-commerce platforms or directly to the customer. Nowadays the model changed, the preparation of the order is directly made in China, then small parcels are right after sent to Europe and USA. The custom taxes and barriers have been simplified in that aim. There is no need to have a company in Europe or in the USA to import and deliver to customers!
This created a brand-new market segment, the small parcel market. These parcels are directly sent to Amazon or to other European and American e-commerce platforms. Chinese suppliers are now selling their products with the freight costs directly included. This reveals a new market, the market of the Asian producers that are directly selling to the final customer via e-commerce platforms.
The rise of the air freight prices doesn't cause that much trouble to the e-entrepreneurs that are aiming to deliver their products asap. On the different e-commerce websites, suppliers are rated in terms of reliability but also on delivery capacities. These platforms are hard to please and push the e-entrepreneurs to be the best because the rates are determining their ranking. They are ready to invest in order to be more competitive on delays.
In 2017 during peak season, approximately 20% to 25% of the Aircraft holds where fulfilled with e-commerce products. In 2018, it will probably overcome the 30%. This trend is particularly stressed from Asia to Europe or to the USA. It should be marked that the USA have an optimized custom system which allows each household to have a daily importation quota, without taxes and custom clearance. It really eases the import of small parcels from China and encourage the globalization. A Chinese supplier or producer can directly sell to a European or American customer. It also eases the access to further similar products, that will be sent by planes.
WHAT ARE THE ALTERNATIVES TO THE AIR FREIGHT?
« Sea freight and Air freight are the most common alternatives! A China – San Francisco container travels in less than 15 days. Sea freight to Europe lasts around 30 days on average. Rail freight between China and Europe takes around 15 days. It's faster than Sea freight, but also more expensive. The Sea-Air solution is also very economic for the e-commerce cross-border market. Usually, it is used via South Korea, Singapore or Dubai. This method is twice more used every year! It will be a true development axis for 2018-2019."
HOW HIF SHIPPING REACTED TO THE 2017 PEAK SEASON?
« HIF Shipping is a pro-active player on the freight field, for the Air, Sea and Rail freight through the world. We are a dynamic SME, growing and improving every day. We partnered with Airlines when the market was at its all-time low. We implemented long time partnerships that enables us to provide ultracompetitive freight solutions. The respect of our engagement with the Airlines and our local partners has been very important when the Airlines needed us and vice versa. That's why we continued to develop ourselves in this difficult period, and we obtained more spaces at this great price. This Peak Season enabled us to build customer and partner loyalty, while delivering within the best delays"
To get more information please
Email us
, o
r
get a free quote
.
WHAT ARE THE OBJECTIVES OF HIF SHIPPING AIR CARGO DEPARTMENT?
« For the Air freight, our goal is to pursue our partnership strategy and involvement with our partners and clients. We are uncompromising on our responsibilities. We have the notoriety to be loyal to our partners. In 2017, we increased our flow by 40%. Numerous companies are interested in our group nowadays. We will bear high our great reputation.
Our second objective is to become a major actor on the e-commerce field between China and the rest of the world. HIF Shipping is one of the few companies able to clear small parcels to Europe, with a total mastering of the supply chain: Presence at the source, contracts with Airlines, licenses to clear small parcels, last-mile contracts to allow the client to choose a tailor-made service, and also door-to-door services. This cross-border system is based on our IT software, on the edge of technology, enabling us to track products with precision. 15% of our flux are e-commerce flux. This part can progress to 25% in 2019. "
TEMPORARY IMPORTATIONS AND ATA CARNET : YES WE CAN !
ALL TO KNOW ON THE ATA CARNET
The original ATA Carnet must be provided for all temporary operation. It is recognised in more than 60 countries. In the case of an international exhibition, an Import in China statement as well as the ATA Carnet must be provided. If possible, please scan us the copy of your ATA Carnet for checking. Please, indicate us also the contact information of the consignee, so we can find out if the clearing process could be made without a problem.
Furthermore, it must be noted that the goods should be returned to its original place or exported to its next destination in the 6 months following its entrance in the Chinese territory (required by Chinese customs)
According to the customs requirements, additionally to the ATA Carnet, the consignee should provide these documents below:
1. Invitational letter
2. Official custom clearing letter
3. Complete address of the exhibition place / date / name of the exhibition, confirmation letter of the stand booking.
4. Letter of approval from the Chinese government, letter of approval from the Chinese customs
Besides, if the customer is trying to use another method to import and export temporarily his goods (without the ATA Carnet), Chinese customs will proceed a verification (that will last 3 or 4 weeks). So, the goods could not be cleared quickly.
HIF Info:
That's the main reason why we advise you to never send goods without receiving the approval at first. The importation process is very complex in China, contrarily to other countries. That explains why many parameters should be checked first.
UPLIFTING AGILITY: AIRFREIGHT STRATEGIES FOR THE HOLIDAY SEASON AND BEYOND
Holiday season may be the "most wonderful time of the year" for consumers. But for importers, the stretch from October through December can be anything but.
Shrinking capacity, tight delivery windows, and increased consumer demand can stretch the strongest supply chain to its breaking point. For many companies there is so much riding on a successful holiday season — to the tune of 20% of total yearly retail sales, according to the National Retail Federation.1 It all comes down to two things: planning and execution.
But, as with many things in the world of freight, navigating through a successful holiday season and planning for the next year is often easier said than done. Let's take a look at market factors and proven strategies that may help your business win big in Q4 and beyond.
CURRENT SNAPSHOT: TARIFFS AND END-OF-YEAR IMPACT
Peak season is typically a challenge for shippers, but 2019 has presented several unique hurdles. U.S.-China tariff announcements created volume surges ahead of traditional peak-season timing, and impacted supply chain seasonality. The result is that 2019 has not yielded a traditional peak season to date.
This instability and uncertainty has been difficult to navigate, and it is still yet to be seen how the remainder of 2019 and the beginning of 2020 will be impacted – but it is reasonable to expect the unexpected.
"Tariff announcements will always have the potential to alter a peak season," explains Chengdu, Senior Director of Global Airfreight Strategy at HIF Shipping. "But as unplanned surges in freight volumes continue to arise, businesses must cope with a blurring line between peak season planning and their standard operations over the course of the rest of the year."
HOW TO PLAN FOR HOLIDAY SEASON AND ACCOUNT FOR AIRFREIGHT FROM CHINA
Preparing your supply chain for all the possibilities of end of-year shipping is imperative to closing out the year strong.
FINDING AGILITY IN UNCERTAINTY
2019 has been a great example of the uncertainties that the economy can bring. The lack of peak season, the multiple tariff announcements, global political instability, and catastrophic weather events are all unforeseen scenarios that impact your supply chain. The key to success lies in striking the right balance of agility, reliability, and visibility. That's why, in such an uncertain market, airfreight is an ideal solution.
Airfreight allows businesses to make decisions with shorter lead time and be more nimble in the face of change. What's more, airfreight may provide a supply chain lifeline that can keep goods moving when other methods have stalled.
"Holiday shipping season can be a very stressful time for logistics teams, but that doesn't necessarily have to be the case," suggests HIF Shipping. "During this time, goods shipped via airfreight can help ensure timely delivery — even in the event of an exception."
With no true peak season, many goods were shipped early in the year to avoid the tariffs. However, this means that they were shipped without real insight into the true popularity of specific products; many shippers were forced to make assumptions about which products would sell the best. But with fickle consumers, that could mean unplanned stockouts or overstocked merchandise that doesn't meet customer demand. Airfreight is the most flexible mode to bring agility into your supply chain to mitigate these challenges.
Holiday shipping season can be a very stressful time for logistics teams, but that doesn't necessarily have to be the case. During this time, goods shipped via airfreight can help ensure timely delivery — even in the event of an exception.
Cheng du, HIF air freight manager
In the months before and after holiday season, taking a methodical, thoughtful approach to volume projections and shipment modes can allow for solid execution in light of any curveballs the market may throw. More specifically, here are three elements of holiday season planning to focus on:
1/ Review
historical performance and sales forecasts by commodity/product with logistics, sales, and marketing teams. Take a look at the past five years to get a better sense of average sales and reasonable growth patterns in order to make more realistic assumptions.
2/Evaluate
the value of your potential sales opportunities and compare under-forecasting and missing opportunities against the cost of a rapid delivery of air freight to help better plan for meeting customer needs. Where possible, leverage historical data to help determine how much to ship via ocean and which goods to replenish via air.
3/Prepare
your supply chain for unexpected stockouts and supplier demand. Holiday hits can catch you off guard, so be ready to respond quickly with in-demand merchandise.
Building a holistic holiday season strategy with careful planning like this can help ensure that priority products are given the preparation and time necessary to hit your holiday targets.
At the same time, this strategic approach can give you a foundation for informed decision-making to meet a range of supply chain scenarios – and to operate with agility to meet demand with the most effective mode of transportation for that particular circumstance. Case in point: if a load misses a flight. Supply chains aren't perfect, and occasionally your suppliers aren't ready to release goods, an incident happens en route to the airport, or materials are damaged and need to be replaced.
"Airfreight offers the agility necessary to develop more creative solutions when an exception, such as a missed flight, happens. With multiple flights on a single lane mere hours apart, there are opportunities to turn bad situations back into wins for importers," says Beth Thorson, Director of Airfreight Development at HIF Shipping
At the same time, maintaining flexibility in both supply and distribution can allow businesses to successfully navigate uncertain challenges while avoiding the pitfalls of idle inventory. Proactive 2020 planning should include multi-modal options, with both planned shipments and the ability to make agile shipping decisions as market conditions change.
LOOKING AHEAD TO 2020
Many of the strategic considerations outlined in this guide apply year-round – and could have immediate implications for the year ahead. Brexit has already been pushed into 2020, and its full impact, when (or if) implemented, remains to be seen. At the same time, the effects of current and future tariffs will likely continue to be felt through the new year, meaning that supply chains will need to remain increasingly nimble.
CONCLUSION
China requires a particular attention, when you have the project to import inside its territories. It is crucial to ensure you that all the needed documents are well prepared, to avoid all problems with the Chinese customs, that are extremely meticulous.
Thereby, please contact us for all your shipments, we will verify if all the conditions required are accomplished, if the documents are well made, if you have all the import licenses needed, etc. We are experts in this domain, and we will handle your paperwork for a secured shipment without a problem.
QUESTIONS ABOUT AIR FREIGHT FROM CHINA
HOW IS CHARGED THE AIRFREIGHT FROM CHINA?
It depends on net weight, gross weight and volume. By air freight 1 cbm = 167 kilos. By express 1 cbm = 200 kg. All air freight quotes are charged per/kg.
DO I HAVE TO BOOK THE SHIPMENT MYSELF OR CAN MY SUPPLIER TAKE CARE OF IT?
The supplier can normally book the shipment through their local freight forwarder. However, we advise you to book the air freight yourself, with a freight forwarder based in your country or market. This gives you much more transparency about the process and cost. In addition, you can ensure that the cargo is properly insured.
CAN I GET AIR CARGO INSURANCE?
Yes, air freight insurance is highly recommended. Hif offers you an insurance service where the cost of our insurance service represents 1% of the total value of the goods declared.
ARE THERE ANY RESTRICTIONS I SHOULD KNOW ABOUT?
Yes, the International Air Transport Association (IATA) has placed restrictions on cargo containing lithium batteries, such as power banks or other electronic devices. To comply, the shipper must package the goods in accordance with IATA regulations, ensure that the goods are properly labeled and provide the required documentation.
WHAT IS THE ROLE OF A CHINESE AIR FREIGHT FORWARDER?
Normally, you don't book freight directly with DHL, FedEx or UPS (technically you can, but that's another story). Instead, you buy freight from a freight forwarder who handles logistics for a large number of customers. Often in the same region or industry. In addition to their expertise, you'll also have access to discounts that they pass on to their large volume business with major carriers. Of course, they keep some for themselves.
WHAT ARE THE ADVANTAGES OF AIR FREIGHT?
Top 8 benefits of air freight: 1/ The fastest shipping method. 2/Very reliable arrival and departure times 3/ Ship your cargo almost anywhere. 4/Low insurance premium saves you a lot of money. 5/High level of security and reduced risk of theft and damage. 6/ Less warehousing required and fewer items in stock. 7/Less packaging required. 8/Track the condition of your cargo.
WHAT CHINESE'S PRODUCTS ARE SHIPPED BY AIR?
Air cargo aircraft carry anything that can be bought or sold. See how goods are shipped around the world. You can ship just about anything by air. Letters, parcels, cars, horses, construction equipment and even other aircraft can be shipped by air freight.
To get more information please
Email us
, o
r
get a free quote
.